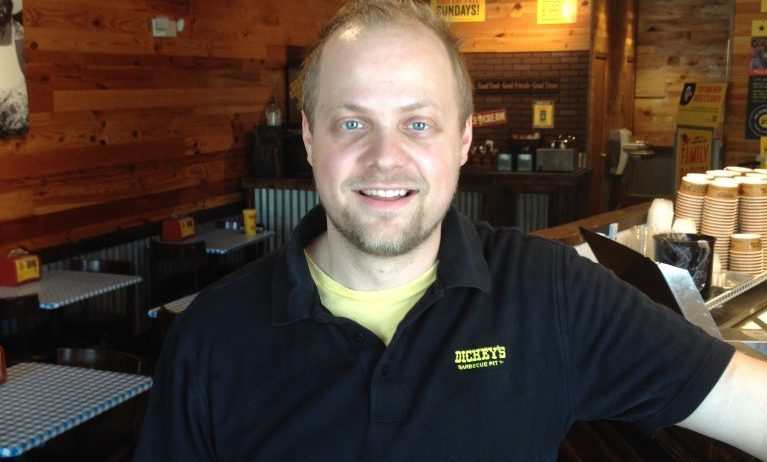 Dickey's Barbecue Pit Owner Brings a Little Piece of Texas to Georgia
'
(Buford, GA) Dickey's Barbecue PitOwner/Operator Shannon Skains plans to open his second location in Buford,Georgia. As a native Texan, Skains wanted to bring a piece of Texas to his newhome state. After a highly successful opening of his first Dickey's location inFlowery Branch in 2014, the slow-smoked barbecue quickly became a communityfavorite and Skains began planning how he could serve up more acrossGeorgia.
"Dickey's Barbecue Pit has been family owned and operated since 1941and we consider each of our owners as a part of our family," said Laura ReaDickey, CEO of Dickey's Barbecue Restaurants, Inc. "We are always proud whenour current owners decide to invest more in us and our brand to open newlocations in their communities."
Skains' newest location will open its doors in Buford, by the Mall ofGeorgia. "We are looking forward to the opportunity to serve more of thecommunity with our second location," said Skains. "Barbecue is anunderdeveloped segment in the area and we are proud to grow this Texas brand inGeorgia."
Skains has spent most of his career in the restaurant industry, with alongterm goal of owning his own restaurant. When researching franchising opportunities,Dickey's was the perfect fit due to Skains' love for barbecue and his deep-seededTexas roots. Skains runs both locations with his partner and wife, Asia, andthey plan to open at least one more location in the coming years.
To find the location nearestyou, click here. Find Dickey'son Facebook, Instagram and Twitter.
About Dickey's Barbecue Restaurants, Inc.
Dickey's Barbecue Restaurants, Inc., the nation's largest barbecue chainwas founded in 1941 by Travis Dickey. Today, all meats are still slowsmoked on-site in each restaurant. The Dallas-based family-run barbecue franchise offersseveral slow-smoked meats and home style sides with 'No B.S. (BadStuff)' included. The fast-casual concept has expanded to nearly 600locations in 44 states. In 2016, Dickey's won first place on Fast Casual's"Top 100 Movers and Shakers" list and in 2017 again wona top 10 on the list. Dickey's Barbecue Pit has also been recognized byEntrepreneur Magazine, Franchise Times, and Nation's Restaurant News. For moreinformation, visit www.dickeys.com.
###
'