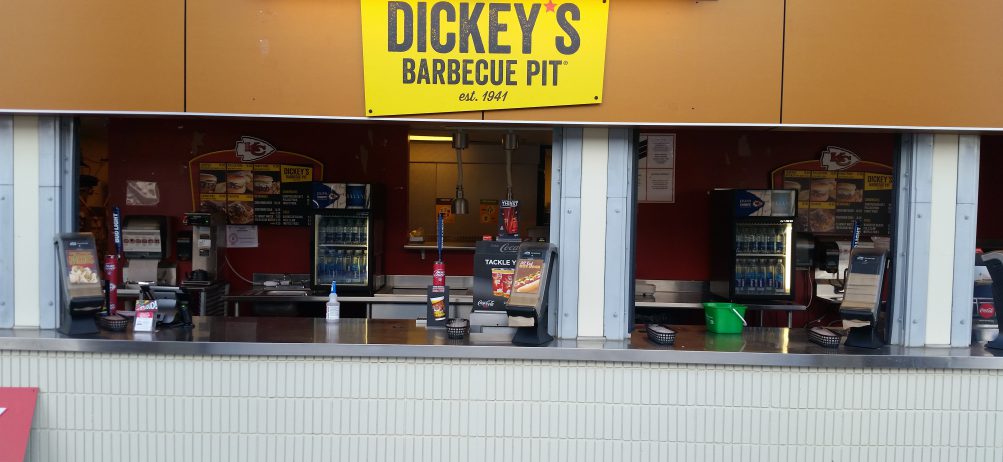 Dickey's Barbecue Pit Scores at Arrowhead Stadium in Kansas City, MO
'
(Kansas City, MO) Dickey's BarbecuePit Owner/Operator Ryan Wenrich ventured out from the typical Dickey'sBarbecue Pit location and has set up shop at Kansas City's Arrowhead Stadium.
Wenrich, a Kansas City football fan for as long as he can remember, wasthrilled when Arrowhead Stadium approached him about sharing Dickey'sslow-smoked, Texas-style barbecue with patrons of their venue. His firstconcession location opened during preseason and a second location will beopening soon.
"We are excited to have this opportunity at Arrowhead Stadium," saysWenrich. "Nothing goes better with football than delicious barbecue and we areproud to offer this to the fans at Arrowhead stadium this season and hopefullymany seasons in the future."
The concession stand will offer Dickey's delicious, slow-smokedbarbecue sandwiches, fall off the bone ribs, Frito Pie and crispy waffle fries.Though Wenrich is the owner of these locations, they will be run by Pit Boss'Kip McVey and Michael Meade.
"At Dickey's Barbecue Pit, we are proud to have franchisees like RyanWenrich that take Dickey's Barbecue Pit to a new level by being innovative in locationselection and embracing serving our traditional barbecue in a new way," saysLaura Rea Dickey, CEO of Dickey's Barbecue Restaurants, Inc. "It is ideas suchas these, that will continue Dickey's growth now and in the future."
To find the location nearestyou, click here. Find Dickey'son Facebook, Instagram and Twitter.
About Dickey's Barbecue Restaurants, Inc.
Dickey's Barbecue Restaurants, Inc., the nation's largest barbecue chainwas founded in 1941 by Travis Dickey. Today, all meats are still slowsmoked on-site in each restaurant. The Dallas-based family-run barbecue franchise offersseveral slow-smoked meats and home style sides with 'No B.S. (BadStuff)' included. The fast-casual concept has expanded to nearly 600locations in 44 states. In 2016, Dickey's won first place on Fast Casual's"Top 100 Movers and Shakers" list and in 2017 again wona top 10 on the list. Dickey's Barbecue Pit has also been recognized byEntrepreneur Magazine, Franchise Times, and Nation's Restaurant News. For moreinformation, visit www.dickeys.com.
###
'