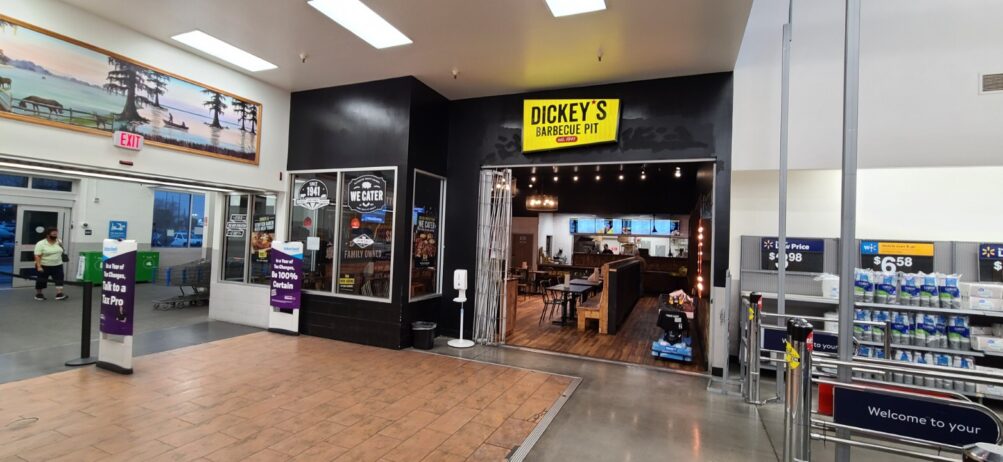 Dickey's Barbecue Pit Sees Revival in Non-Traditional Convenience Store Model
World's largest barbecue concept reports success in non-traditional franchise models as grocery stores remain a safe space for consumers
DALLAS (Feb. X, 2021) – Texas-style barbecue franchise Dickey's Barbecue Pit is seeing an increase in popularity and success with their C-store franchise models as supermarkets remain an essential business for consumers everywhere.
This week, Dickey's opened its 95th c-store model in the North Dallas suburb of Carrollton. The new Texas-style barbecue joint is located inside the retail supercenter Walmart located on 1213 Trinity Mills Rd.
The aforementioned location is one of several new c-stores recently opened by the Dallas-based barbecue franchise. In addition, the family-owned and operated brand is reporting a significant increase in check counts from these non-traditional location's opening days compared to the brand's traditional models who opened within the same quarter.
In December, the barbecue franchise opened a supermarket location in Vermont and the store saw a 66% increase in overall check count within its first three days of opening when compared to a traditional model that opened in the northeast that same week. A differential that is also dramatized by the fact that the c-store model check count is attributed to dine-in and carry-out sales only.
"As supermarkets such as Walmart remain essential for consumers, their consistently high-traffic lends itself well to our franchises located inside," said Laura Rea Dickey CEO of Dickey's Barbecue Restaurants Inc.
To learn more, follow Dickey's Franchise on Facebook, Instagram and Twitter. Download the Dickey's Barbecue Pit app from the Apple App Store or Google Play.

About Dickey's Barbecue Restaurants, Inc.
Dickey's Barbecue Restaurants, Inc., the world's largest barbecue concept, was founded in 1941 by Travis Dickey. For the past 80 years, Dickey's Barbecue Pit has served millions of guests Legit. Texas. Barbecue.™ At Dickey's, all our barbecued meats are smoked onsite in a hickory wood burning pit. Dickey's proudly believes there's no shortcut to true barbecue and it's why they never say bbq. The Dallas-based, family-run barbecue franchise offers several slow-smoked meats and wholesome sides with 'No B.S. (Bad Stuff)' included. The fast-casual concept has expanded worldwide with two international locations in the UAE and operates over 500 locations in 44 states. In 2016, Dickey's won first place on Fast Casual's "Top 100 Movers and Shakers" list and was named a Top 500 Franchise by Entrepreneur in 2018. Dickey's Barbecue Pit has also been recognized by Fox News, Franchise Times, The Wall Street Journal, QSR Magazine, Forbes Magazine and Nation's Restaurant News. For more information, visit www.dickeys.com.
# # #