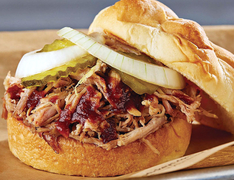 Dickey's Barbecue Pit Will Open Three New Locations in LA Area
'
Dickey's new development agreement includes new stores in Lomita,Hawthorne and El Segundo
(Los Angeles, CA) Dickey's Barbecue Pit has just executed a developmentagreement for three new stores just south of Los Angeles. The new stores willbe located in Lomita, Hawthorne and El Segundo, and will be owned and operatedby Alex Roth who also owns the Dickey's location in Redondo Beach. The Hawthornlocation is slated to open by early 2017, followed by Lomita by the end of2017.
"Dickey's Barbecue Pit is proud to expand so rapidly in California thisyear," says Roland Dickey Jr., CEO of Dickey's Barbecue Pit. "We have openedseveral new stores throughout The Golden State, which has the greatest numberof Dickey's locations after Texas."
Owner/OperatorAlex Roth is a former United States Marine Corps reservist, but began hiscareer in foodservice at Dickey's Barbecue Pit. After becoming a barbecueexpert in his local store, he had the opportunity to invest in a franchise. Hisfirst franchise was the Redondo Beach location, for which he increased sales by300 percent in three years. "I love making high quality, authentic food," Rothsays. "I find that my Dickey's stores are good for my community in so manyways, from serving excellent barbecue with great service to providing jobs forlocal citizens."
To learn more about franchising with Dickeys,visit www.dickeys.com/franchise or call866-340-6188.
To find the Dickey's Barbecue Pit nearestyou, click here. Find Dickey's on Twitter, Facebook and Instagram.
About Dickey's Barbecue Restaurants, Inc.
Dickey'sBarbecue Restaurants, Inc., the nation's largest barbecue chain was founded in1941 by Travis Dickey with the goal of authentic slow-smokedbarbecue. Today, all meats are still slow smoked on-site in each restaurantliving up to the company tagline, "We Speak Barbecue." TheDallas-based family-run barbecuefranchise offers a quality selection of signature meats, home style sides,tangy barbecue sauce and free kids' meals every Sunday. The fast-casual concepthas expanded to more than 560 locations in 43 states. This year Dickey's wonfirst place on Fast Casual's "Top 100Movers and Shakers" and ranked in the top ten of Franchise Times' "Fast andSerious." Dickey's Barbecue Pit was recognized forthe third year by Nation's Restaurant News as a "Top 10 Growth Chain" and byTechnomic as the "Fastest-growing restaurant chain in the country." For moreinformation, visit www.dickeys.com or for barbecuefranchise opportunities call 866.340.6188.
'