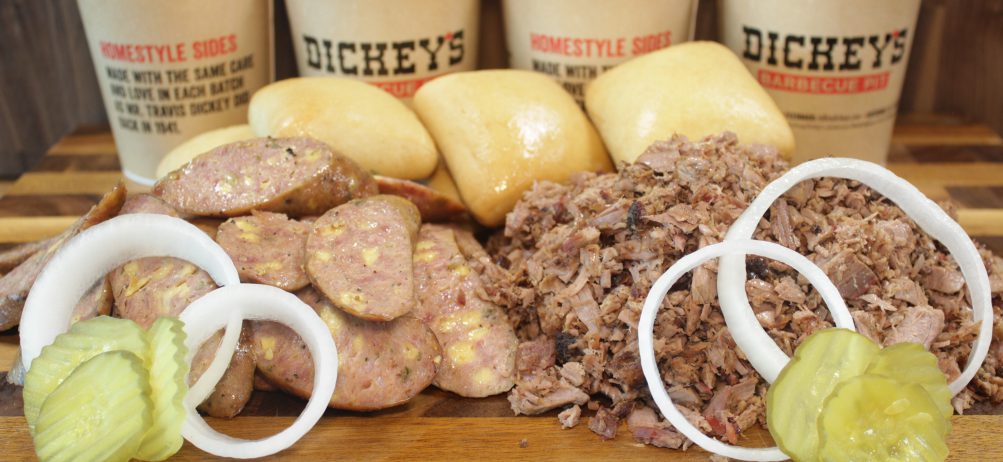 Dickey's Barbecue Restaurants, Inc. Adds Sixth Revenue Stream with New Delivery Service Partners
'
(Dallas, TX) Dickey's Barbecue Restaurants, Inc. has added a new stream of revenue after finalizing agreements with multiple delivery service partners including Dine On Demand, DoorDash, DoorstepDelivery, Food Dudes Delivery and Postmates. Dickey's has also joined the catering marketplace, ezCater. This new revenue stream adds to five current revenue generating streams, including Dine In, Catering, Meal Replacement (Online Ordering, Drive-Thru, and Carry-Out), Retail (in-store and through grocery store partners) and Holiday Meals, which have been critical to the success of the nation's largest barbecue chain, now with over 520 units in 43 states. Dickey's continues to build momentum and secure its position as a leading fast casual brand with locations throughout the country.
"We picked a variety of delivery service providers for our store markets to give our guests the opportunity to choose the delivery option with which they are most comfortable. We are in the process of testing numerous delivery vendors in our corporately owned Dickey's Barbecue Pit locations to ensure that our system uses only the best delivery service providers," said Roland Dickey, Jr. CEO of Dickey's Barbecue Restaurants, Inc. "Our guests love quick delivery and it's done very well for us in terms of demonstrating a vital growth opportunity while maintaining the quality of our food. We look forward to seeing the revenue growth this channel will provide for the Dickey's brand."
The barbecue chain has grown exponentially nationwide with current plans to add 178 stores from California to Florida. For more information on franchising with Dickey's Barbecue Restaurants, Inc., call 866.340.6188.
To find the Dickey's Barbecue Pit nearest you, click here. Find Dickey's on Twitter, Facebook and Instagram.  
About Dickey's Barbecue Restaurants, Inc. 
Dickey's Barbecue Restaurants, Inc., the nation's largest barbecue chain was founded in 1941 by Travis Dickey with the goal of authentic slow smoked barbecue. Today, all meats are still slow smoked on-site in each restaurant living up to the company tagline, "We Speak Barbecue". The Dallas-based family-run barbecue franchise offers a quality selection of signature meats, home style sides, tangy barbecue sauce and free kids' meals every Sunday. The fast-casual concept has expanded to over 500 locations in 43 states. This year Dickey's Barbecue was recognized for the third year by Nation's Restaurant News as a "Top 10 Growth Chain" and by Technomic as the "Fastest-growing restaurant chain in the country." For more information, visit www.dickeys.com or for barbecue franchise opportunities call 866.340.6188.