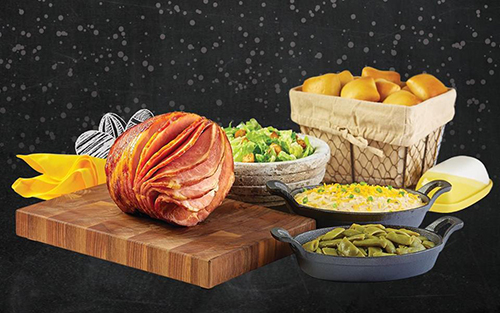 65 Years of Making the Easter Holiday More About Family
'
(Dallas, TX) For 65 years,Dickey's Barbecue Pit has offered ease with Easter meats & feasts. Thenation's largest Barbecue chain started serving families 76 years ago, butadded traditional Easter meats and side items as an option ten years later,when guests inquired about reserving whole meats for the holiday.
This year Dickeys will offerwhole spiral-cut smoked hams, smoked Turkeys, and Cajun-fried turkeys and a newaddition, whole Prime Rib, along with complete meals. Guests can order online,by phone or in-store to get their Easter ham and all the fixins'.
The full Easter feast includesDickey's signature Baked Potato Casserole, Green Beans with Bacon, CaesarSalad, 12 buttery rolls and a gallon of tea; feeding 10 – 12 people and availablefor $99.95. All essentials included so more time can be focused on family andless time spent in the kitchen
"Our family started the Eastermeal options to help families reduce holiday preparation stress," says LauraRea Dickey, CEO of Dickey's Barbecue Restaurants, Inc. "Each of our meats bringto the table slow-smoked quality, that requires hours of preparation, howeverordering a complete feast ready to serve from Dickey's, helps the family hostavoid hours in their own kitchen and frees up time to spend with family. "
For a convenient and easy Eastermeat or meal, visit www.dickeys.comor your local Dickey's Barbecue Pit.
To find the Dickey's Barbecue Pitnearest you, click here. Find Dickey's on Twitter, Facebook and Instagram.
'