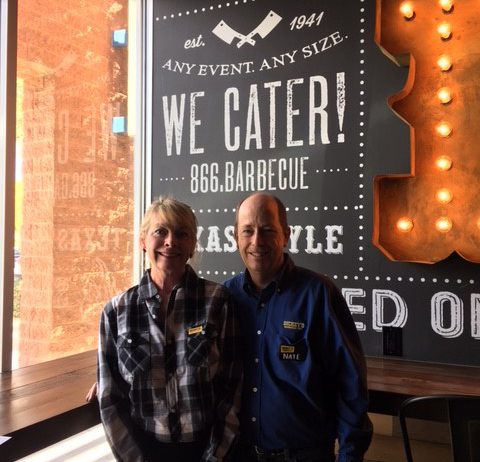 Dickey's Fires Up the Pit in Scottsdale
'
Dickey's Barbecue Pitopens March 30 with specials and giveaways, including free barbecue for a year
(Scottsdale, AZ) Dickey'sBarbecue Pit will open its newest location in Scottsdale on Thursday, March30. The grand opening festivities will include four weekends of fun, includinga giveaway of free barbecue for a year! Enter to win by using hashtag#1FreeYearofBBQ on any social media channel.
To joinDickey's Big Yellow Cub Club and receive members-only specials and discounts,click here.
"We areproud to serve authentic, Texas-style barbecue in Arizona," says Laura ReaDickey, CEO of Dickey's Barbecue Restaurants, Inc. "We congratulate newOwner/Operators Nate and Laura Pomeroy on opening their Dickey's location."
The openingfestivities will last four weeks and include:
Thirsty Thursdays: Guests will receivea free Big Yellow Cup with free refills all day. The first 50 guests willreceive a complimentary barbecue treat!
Philanthropy Fridays: "You Give, WeGive" – All uniformed officers will receive 50 percent off their meal. Guestscan donate to Dickey's charitable foundation, Barbecue, Boots & Badgeswhich serves those who protect us.
Singer/Songwriter Saturdays: Enjoytunes from local musicians every Saturday for the next four weeks.
Kids Eat Free Sundays: Kids eat freewith an adult purchase of $10 or more.
Nate andLaura Pomeroy discovered Dickey's when they bought a coupon for discountedbarbecue from a Cub Scout fundraiser. Originally from Arizona, the Pomeroyfamily spent several years in Southern California. When they embarked on theirDickey's adventure, they knew it was time to come back home to open theirbarbecue restaurant. "We are excited to serve our community great barbecue andbecoming a great corporate citizen," Nate Pomeroy says.
To find theDickey's Barbecue Pit nearest you, click here.
Dickey'sBarbecue Pit in Scottsdale is located at 14884 North Pima Road, Scottsdale, AZ85260. The phone number is 602-467-3926.
FindDickey's Barbecue Pit on Facebook,Instagram and Twitter.
AboutDickey's Barbecue Restaurants, Inc.
Dickey's Barbecue Restaurants, Inc., the nation's largest barbecue chainwas founded in 1941 by Travis Dickey. Today, all meats are still slowsmoked on-site in each restaurant. The Dallas-based family-run barbecue franchise offers eightsignature meats, seven savory sides, tangy barbecue sauce and free kids' mealsevery Sunday. The fast-casual concept has expanded to nearly 600 locations in44 states. In 2016, Dickey's won first place on Fast Casual's "Top100 Movers and Shakers" list. Dickey's Barbecue Pit has also beenrecognized by Entrepreneur Magazine, Franchise Times, and Nation's RestaurantNews. For more information on Dickey's awards, visit www.dickeys.com
###
'