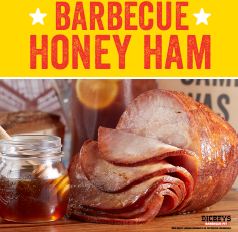 Dickey's New Barbecue Honey Ham Debuts in Utah
'(SALT LAKECITY, UT) Dickey's Barbecue has turned the traditional ham on its ear by introducing a new lean, spiral cut ham glazed to perfection with a combination of sweet golden honey and Dickey's signaturehickory smoke. Utah is the second market in the nation to begin serving Dickey's new Barbecue Honey Ham.
"We really took our time perfecting the ham recipe before we introduced it to our customers," said Roland Dickey, Jr. president of Dickey's Barbecue Restaurants. "Customers want flavor and our new Barbecue Honey Ham really delivers. It fits in perfectly with our core menu and also offers something new and exciting to our customers."
Sweet and smoky are unusual flavor partners, but when combined just right they create a mouthwatering combination. The new Barbecue Honey Ham is an average 6.5 pound ham, spiral cut for convenience and ease of serving. The ham is available on a sandwich, plate or as a whole ham.
"Our new Barbecue Honey Ham is an excellent choice for the holidays or family dinners," said Dickey. "We've tasted what's currently in the market and, to me, nothing compares to the juicy and tender ham we are offering– it's my new favorite thing on the menu!"
Dickey's Barbecue Honey Ham is now available in all twelve Utah locations.