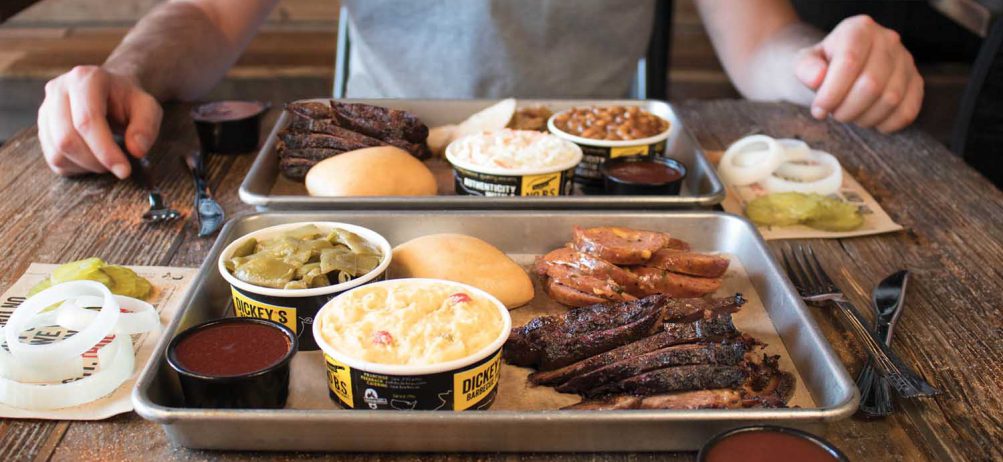 First Dickey's Barbecue Pit to Open on a Military Installation Begins Service August 27
(Fort Leonard Wood, MO) – The first Dickey's Barbecue Pit to open on a military installation begins service this Thursday, August 27 in Fort Leonard Wood. Dickey's is proud to serve Texas-style slow-smoked barbecue to our men and women in uniform, and will offer free barbecue for a year to three guests who attend the grand opening festivities.
Col. Andy Herbst, U.S. Army Garrison commander at Fort Leonard Wood, will cut the ribbon and deliver a speech for the grand opening, held Thursday, August 27, 9:45 a.m.
"Dickey's Barbecue Pit has over 500 locations across the U.S., eight of which are in Missouri," says Roland Dickey, Jr., Dickey's CEO. "We look forward to opening our first Dickey's Barbecue Pit on a military installation so that we can bring Texas-style, slow-smoked barbecue directly to the people who protect our freedom, and we are grateful for their service."
The three-day grand opening includes:
· Thursday, August 27 kicks off with the ribbon cutting, followed by the first 50 guests receiving gift cards worth up to $50.
· Friday, August 28, Dickey's will give away goodies and merchandise all day.
· Saturday August 29, radio station KFLW 98.9 The Fort will be on-site from noon to 2:00 pm. The new store will serve barbecue specials such as $2 pulled pork barbecue sandwiches. One lucky winner will be chosen for a $500 gift card and three winners will receive free barbecue for an entire year.
Owner/operator, Danessa Williams had spent 17 years in the corporate fast food business when she decided to become her own boss. She looked for a franchise that offered quality, delicious ingredients served with a side of southern hospitality, and found her niche with Dickey's Barbecue Pit.
A Lebanon native, Danessa has already opened one other Dickey's store in the area. "Fort Wood is a great, diverse location with families from around the country," she says. "These military families are looking for a taste of home away from home, and I am happy to serve those who are serving our country."
The new Dickey's Barbecue Pit in Fort Leonard Wood is located at the Fort Leonard Wood Exchange, Building 487, Fort Leonard Wood, Missouri 65473.
About Dickey's Barbecue Restaurants, Inc.
Dickey's Barbecue Restaurants, Inc., the nation's largest barbecue chain was founded in 1941 by Travis Dickey with the goal of authentic slow smoked barbecue. Today, all meats are still slow smoked on-site in each restaurant living up to the company tagline, "We Speak Barbecue." The Dallas-based family-run barbecue franchise offers a quality selection of signature meats, home style sides, tangy barbecue sauce and free kids' meals every Sunday. The fast-casual concept has expanded to over 500 locations in 43 states. This year Dickey's Barbecue was recognized for the third year by Nation's Restaurant News as a "Top 10 Growth Chain" and by Technomic as the "Fastest-growing restaurant chain in the country." For more information, visit www.dickeys.com or for barbecue franchise opportunities call 866.340.6188.
Sylvia White / Services Business Manager / Fort Leonard Wood Army & Air Force Exchange Service: O 573-329-3587 C 573-842-8565 / whitesd@aafes.com. Visit our online store: www.shopmyexchange.com.
###