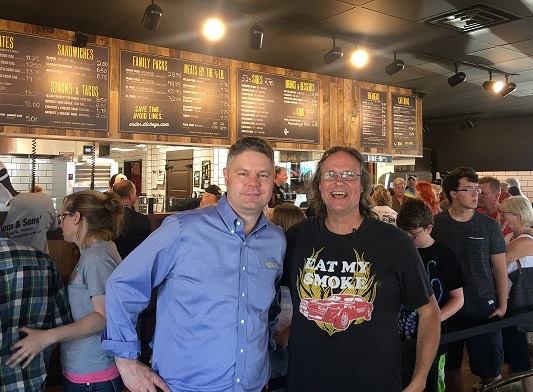 Franchisee Plans to Open Third Dickey's Barbecue Pit Location in Their Home State
'
(Ferris, TX) Dickey'sBarbecue Pit franchisee, Guy New, plans to open his third Dickey's locationin his home state of Texas. The location is slated to open in Ferris, TX inSpring 2018. The signing of his new location follows New's successful openingof his Mabank store, which opened in early September 2017.
The opening of New's Mabank location generated $3,000 of donations forDickey's charitable foundation Barbecue, Boots & Badges. With the generousdonation matching of Roland Dickey, Jr. and Laura Rea Dickey, New brought in atotal of $6,000 that all went to hurricane relief efforts through Barbecue,Boots & Badges.
"The dedication and generosity of Guy New and his team is somethingthat truly inspires all of us at Dickey's," says Laura Rea Dickey, CEO ofDickey's Barbecue Restaurants, Inc. "We are proud to have franchisees such asGuy that bring so much passion to the brand and we look forward to the openingof his third location."
A native Texan, New is passionate about the art of great barbecue andis proud to serve Dickey's Texas-style barbecue to the residents of hiscommunity. "I am looking forward to opening this location and potentially morein the future," says New. "Dickey's is a vibrant brand with an amazing productand I am honored to have the opportunity to serve my community."
To find the location nearestyou, click here. Find Dickey'son Facebook, Instagram and Twitter.
About Dickey's Barbecue Restaurants, Inc.
Dickey's Barbecue Restaurants, Inc., the nation's largest barbecue chainwas founded in 1941 by Travis Dickey. Today, all meats are still slowsmoked on-site in each restaurant. The Dallas-based family-run barbecue franchise offersseveral slow-smoked meats and home style sides with 'No B.S. (BadStuff)' included. The fast-casual concept has expanded to nearly 600locations in 44 states. In 2016, Dickey's won first place on Fast Casual's"Top 100 Movers and Shakers" list and in 2017 again wona top 10 on the list. Dickey's Barbecue Pit has also been recognized byEntrepreneur Magazine, Franchise Times, and Nation's Restaurant News. For moreinformation, visit www.dickeys.com.
###
'