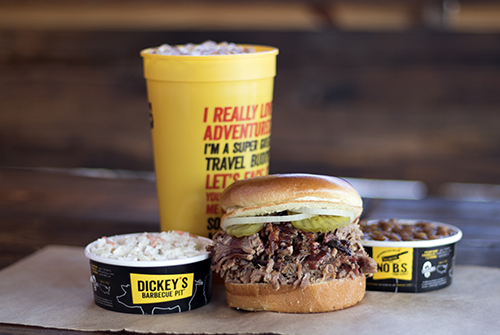 Traverse City Gets a Taste of Texas-Style Barbecue
'
(Traverse City, MI)- Dickey's Barbecue Pit celebrates itsgrand opening in Traverse City today with four weeks of specials and giveaways.Today, the first 50 guests win a free barbecue treat and all guests who visit willreceive a free, iconic Big Yellow Cup. Throughout the weekend, guests can enterto win free barbecue for a year! Enter to win by using hashtag #1FreeYearofBBQon any social media channel.
To joinDickey's Big Yellow Cup Club and receive members-only specials and discounts,click here.
"As weexpand across the country, we continue to be grateful for the greatpartnerships we have with our dedicated Owner/Operators," said Laura ReaDickey, CEO of Dickey's Barbecue Pit. "We congratulate Andre Bushell on hisfirst grand opening and are excited to bring Michigan more delicious, authenticbarbecue."
The openingfestivities will last four weeks and include:
Thirsty Thursdays: Guests will receivea free Big Yellow Cup with free refills all day.
Philanthropy Fridays: "You Give, WeGive" – Guests who donate to Dickey's charitable foundation, Barbecue, Boots & Badges, willreceive a gift card as a thank you for their donation. All uniformed firstresponders also receive 50 percent off their meal.
Singer/Songwriter Saturdays: Enjoy originalmusic from local singer/songwriters every Saturday for the next four weeks.
Kids Eat Free Sundays: Kids eat freewith an adult purchase of $10 or more.
The newDickey's Barbecue Pit in Traverse City is located at 1201 E. Front Street UnitA Traverse City, Michigan 49686. The phone number is 231-357-1237.
To find thelocation nearest you, click here.Find Dickey's on Facebook,Instagram and Twitter.
'