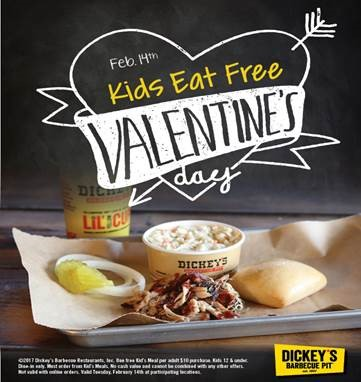 Kids Eat Free on Valentine's Day at Dickey's Barbecue Pit
'
This February 14 KidsEat Free at Dickey's locations nationwide
---
(Dallas, TX)The average person spends $80 on a dinner for two for Valentine's Day, whilethe average meal for two at Dickey's BarbecuePit is a quarter of that price. As Valentine's Day is considered one of themost expensive of the year, Dickey's wants to spread the love with families thisValentine's Day by offering Kids Eat Free at every Dickey's locationnationwide.
On February14, with every guest purchase of an adult dine-in meal of $10 or more, guestswill receive one free Kid's Meal.
Find yournearest Dickey's Barbecue Pit location here.
"Dickey'sBarbecue Pit is a family-owned brand to the core," says Renee Roozen, Presidentof Dickey's Barbecue Restaurants, Inc. "This Valentine's Day our hope is tobring families together creating new memories and traditions for the most love-filledday of the year."
To receive otherspecials all year long at Dickey's, sign up for the Big Yellow Cup Club.
FindDickey's Barbecue Pit on Facebook,Instagram and Twitter.
About Dickey's Barbecue Restaurants, Inc.
Dickey's Barbecue Restaurants, Inc., the nation's largest barbecue chainwas founded in 1941 by Travis Dickey with the goal of authenticslow-smoked barbecue. Today, all meats are still slow smoked on-site in eachrestaurant living up to the company tagline, "We Speak Barbecue." TheDallas-based family-run barbecuefranchise offers a quality selection of signature meats, savory sides,tangy barbecue sauce and free kids' meals every Sunday. The fast-casual concepthas expanded to more than 600 locations in 44 states. In 2016, Dickey's wonfirst place on Fast Casual's "Top100 Movers and Shakers" and ranked in the top ten of Franchise Times' "Fastand Serious." Dickey's Barbecue Pit wasrecognized for the third year by Nation's Restaurant News as a "Top 10 GrowthChain" and by Technomic as the "Fastest-growing restaurant chain in thecountry." For more information, visit www.dickeys.comor for barbecue franchise opportunities call 866.340.6188.
###
'