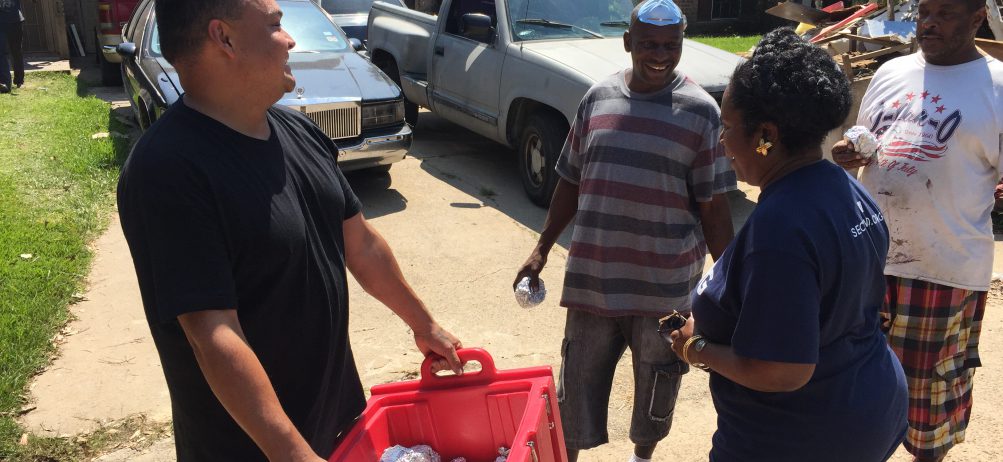 Local Dickey's Crew Travel South to Give Aid to Those Affected by Hurricane Harvey
'
(Houston, TX) A group of Dickey'sBarbecue Pit franchisees and crew members went above and beyond to supportHurricane Harvey relief efforts in Houston. On average, the team has deliveredfood to 5,000 Houstonians and 500 first responders each day.
The team in Houston is comprised of Colorado franchisee David Montoyaand his manager Ukiah Ramirez. Montoya is currently planning to open additionalDickey's locations in his home state of New Mexico. Also on the team are fatherand son duo Shaun and Gene Martin from North Texas. The team has set up shopoutside of an unfinished Houston Dickey's Barbecue Pit location owned byAmrinder Toor.
"Seeing first-hand the destruction of these communities is incrediblyeye opening and has been an experience none of us will ever forget," saysMontoya. "Bringing warm meals to those focused on rebuilding their communitiesis something that I truly believe is lifting their spirits during this time ofrecovery."
Starting out as a team of five, their operation grew when they arrivedin Houston with locals volunteering to help throughout the day. One of the mostprominent volunteers is Congresswoman Sheila Jackson, who assisted the team invisiting and delivering food to the communities.
"We are overwhelmed with the compassion and dedication thesefranchisees have demonstrated through supporting our Houston neighbors in theirtime of need," said Laura Rea Dickey, CEO of Dickey's Barbecue Restaurants,Inc. "It is times like these that make me even more proud to be a part of theDickey's Barbecue Pit family."
To assist in Dickey's Hurricane Harvey relief efforts, please donate toBarbecue, Boots & Badges here.
About Dickey's Barbecue Restaurants, Inc.
Dickey's Barbecue Restaurants, Inc., the nation's largest barbecue chainwas founded in 1941 by Travis Dickey. Today, all meats are still slowsmoked on-site in each restaurant. The Dallas-based family-run barbecue franchise offersseveral slow-smoked meats and home style sides with 'No B.S. (BadStuff)' included. The fast-casual concept has expanded to nearly 600locations in 44 states. In 2016, Dickey's won first place on Fast Casual's"Top 100 Movers and Shakers" list and in 2017 again wona top 10 on the list. Dickey's Barbecue Pit has also been recognized byEntrepreneur Magazine, Franchise Times, and Nation's Restaurant News. For moreinformation, visit www.dickeys.com.
###
'