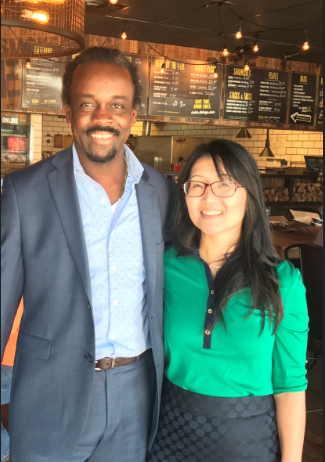 Local Entrepreneur Brings Multiple Dickey's Barbecue Pit Locations to Los Angeles
(Los Angeles, CA) Marlon Russell is bringing three new Dickey's Barbecue Pit restaurants to the West Los Angeles area.
"At Dickey's Barbecue Pit, we pride ourselves on serving each and every guest authentic, Texas-style barbecue," says Laura Rea Dickey, CEO of Dickey's Barbecue Restaurants, Inc. "With new franchisees such as the Russell family that truly love the brand, we can continue our growth and more importantly continue serving our guests delicious barbecue."
Although this is Marlon's first time working in the restaurant industry, he was immersed in the industry from an early age. His father had owned restaurants in Florida and Pennsylvania. These Dickey's Barbecue Pit locations will be Marlon's second career as he has been a physician for most of his adult life.
"I decided on becoming a Dickey's franchisee through extensive research of the brand's history and success," says Marlon. "I look forward to bringing Dickey's slow-smoked barbecue to the residents of West Los Angeles."
Find your nearest Dickey's location here.
About Dickey's Barbecue Restaurants, Inc.
Dickey's Barbecue Restaurants, Inc., the nation's largestbarbecue chain was founded in 1941 by Travis Dickey. Today, all meats are still slow smoked on-site in each restaurant. The Dallas-based family-run barbecue franchise offers several slow-smoked meats and home style sides with 'No B.S. (Bad Stuff)' included. The fast-casual concept has expanded to more than 550 locations in 45 states. In 2016, Dickey's won first place on Fast Casual's "Top 100 Movers and Shakers" list and in 2018 Dickey's Barbecue Pit made the Top 10. Dickey's Barbecue Pit has also been recognized by Entrepreneur Magazine, Franchise Times and Nation's Restaurant News. For more information, visit www.dickeys.com.
###
Media Contacts:
Callie Head
Ashley Richardson