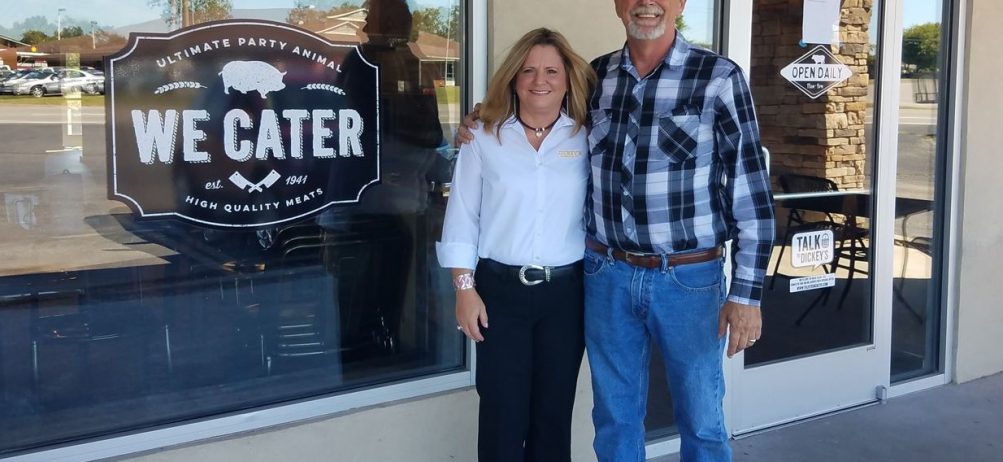 Local Entrepreneurs Bring Dickey's Texas-style Barbecue to Lebanon, TN
'
(Lebanon,TN) Local Lebanon couple brings Dickey'sBarbecue Pit to their community this Thursday, October 5 with four weeks of specialsand giveaways, including free barbecue for a year for three lucky guests. Thiswill be Ron and Tricia Burkett's first Dickey's location with hopes of openingmore in the future.
"We are thrilled to have Ron and TriciaBurkett join the Dickey's Barbecue Pit family," says Laura Rea Dickey, CEO ofDickey's Barbecue Pit, Inc. "With franchisees like the Burketts, who arepassionate about the art of great barbecue, the Dickey's brand will continue tobe successful and grow."
Dickey's will offerthe following specials and giveaways for the next four weeks:
Thirsty Thursdays: Guests will receive a free BigYellow Cup with free refills all day.
Philanthropy Fridays: "You Give, We Give" – Guests whodonate to Dickey's charitable foundation, Barbecue,Boots & Badges, will receive a gift card as a thank you for their donation. Alluniformed first responders also receive 50 percent off their meal.
Giveaway Saturday: Guests can register for a chanceto win free barbecue for a year.
Kids Eat Free Sundays: Kids eat free with an adultpurchase of $10 or more.
To join Dickey's Big Yellow Cup Club and receive members-only specialsand discounts, click here.


As new restauranteurs, the Burketts sawgreat value in the Dickey's Barbecue Pit brand, especially after moving fromFrisco, TX where Dickey's is a household name. Upon moving to Lebanon, thecouple decided it was time to open a restaurant of their own and found a homein Dickey's. "For the last 10 years I have traveled for my job and saw newDickey's locations pop up with lines out the door," says Ron Burkett. "When itcame time to make a career change and stop traveling, we knew that opening ourown Dickey's was the right choice for us. We cannot wait to serve the membersof our Lebanon community."
The new Dickey's Barbecue Pit inLebanon is located at 115 S. Hartmann Dr. Lebanon, TN 37087. The phone numberis 615-549-0033.
To find the location nearest you, click here.
Find Dickey's on Facebook, Instagram and Twitter.
To learn more about franchising with Dickeys, visit www.dickeys.com/franchise or call 866-340-6188.
About Dickey's Barbecue Restaurants, Inc.
Dickey's Barbecue Restaurants, Inc., the nation's largest barbecue chainwas founded in 1941 by Travis Dickey. Today, all meats are still slowsmoked on-site in each restaurant. The Dallas-based family-run barbecue franchise offersseveral slow-smoked meats and home style sides with 'No B.S. (BadStuff)' included. The fast-casual concept has expanded to nearly 600locations in 44 states. In 2016, Dickey's won first place on Fast Casual's"Top 100 Movers and Shakers" list and in 2017 again wona top 10 on the list. Dickey's Barbecue Pit has also been recognized byEntrepreneur Magazine, Franchise Times, and Nation's Restaurant News. For moreinformation, visit www.dickeys.com.
###
'