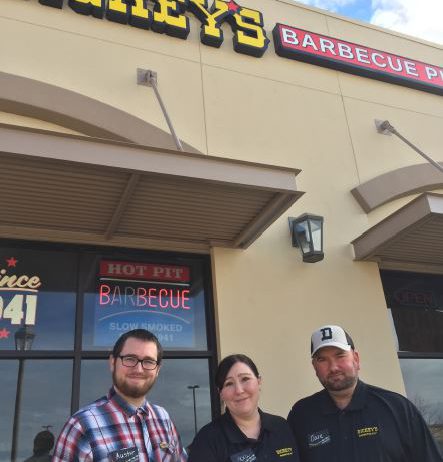 Local Jackson Family Reopens Dickey's Barbecue Pit in Their Hometown
'
Dickey's opens theirdoors this Thursday
---
(Jackson,CA) Local entrepreneur and business owner Abra Teague brings Dickey's Barbecue Pit's delicious,slow-smoked barbecue to her hometown of Jackson beginning this Thursday,February 23. The new location is awarding two lucky guests free barbecue for ayear. To enter the free barbecue for a year drawing, guests must sign up forDickey's Big Yellow Cup Club in-store. Guests can enjoy live music from localmusician Rachel Wilson on Saturday, February 25.
To joinDickey's Big Yellow Cup Club and receive members-only specials and discounts,click here.
"Dickey'sBarbecue Pit is honored to welcome the Teague family as a part of our own,"says Laura Rea Dickey, CEO of Dickey's Barbecue Restaurants, Inc. "Dickey'sBarbecue Pit is the nation's largest barbecue chain, but to our core we arestill a family-run business serving communities slow-smoked barbecue."
With apassion for slow-smoked barbecue, Teague partners with her husband, David andher son, Austin Woodyard to bring Dickey's delicious barbecue to their hometownof Jackson. The Teague family are veterans in the restaurant industry as theyalso own three Jamba Juice locations throughout the area.
Born andraised in Jackson, the Teagues are highly involved in their community, not onlythrough their other local businesses but also as members of the Chamber ofCommerce. "Our community is looking forward to us bringing Dickey's pit-smokedbarbecue back to our town," says Abra Teague. "We are excited to bring thebrand we fell in love with to Jackson and serve our community Texas-stylebarbecue."
To find theDickey's Barbecue Pit nearest you, click here.
Residents ofJackson can find their newest Dickey's location at 12240 Industry Blvd., Suite74 Jackson, CA 95642. The phone number is 209-223-2748.
FindDickey's Barbecue Pit on Facebook,Instagram and Twitter.
AboutDickey's Barbecue Restaurants, Inc.
Dickey's Barbecue Restaurants, Inc., the nation's largest barbecue chainwas founded in 1941 by Travis Dickey. Today, all meats are still slowsmoked on-site in each restaurant. The Dallas-based family-run barbecue franchise offers eightsignature meats, seven savory sides, tangy barbecue sauce and free kids' mealsevery Sunday. The fast-casual concept has expanded to nearly 600 locations in44 states. In 2016, Dickey's won first place on Fast Casual's "Top100 Movers and Shakers" list. Dickey's Barbecue Pit has also beenrecognized by Entrepreneur Magazine, Franchise Times, and Nation's RestaurantNews. For more information on Dickey's awards, visit www.dickeys.com
###
'