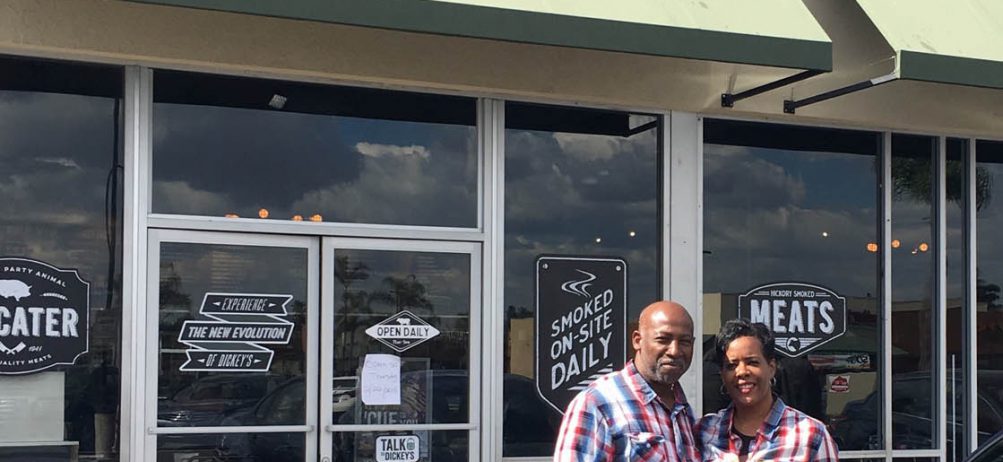 Local Restauranteur Brings Dickey's Barbecue Pit to Compton
(Compton, CA) Local entrepreneurs, Elton and Denise Anderson open their first Dickey's Barbecue Pit in Compton. The new location will offer barbecue lovers four weeks of specials and giveaways, including free barbecue for a year for three lucky guests.
The Andersons bring 12 years of restaurant experience as they join the Dickey's Barbecue Pit family. After looking for new franchising opportunities, the Andersons fell in love with Dickey's delicious, slow-smoked barbecue and energized concept.
"At Dickey's Barbecue Pit, we pride ourselves on serving our communities authentic, Texas-style barbecue which can only be done with amazing franchisees such as Elton and Denise Anderson," says Laura Rea Dickey, CEO of Dickey's Barbecue Restaurants, Inc. "We are thrilled to have these experienced franchisees open their new location in Compton and look forward to their success."
Originally from Belize, Elton moved to California and after years of work in the IT world, decided to break into the restaurant industry with Wing Stop as his first franchising concept. After making California a home, he and Denise decided to bring Dickey's Barbecue Pit to the residents of the Compton community. "Texas-style barbecue is something that we do not have in our area and we are thrilled to be the ones to serve Dickey's barbecue to those in Compton," says Elton.
The address of the Compton location is 116 E. Compton Blvd., Compton, CA. 90220. The phone number is 310-868-1444.