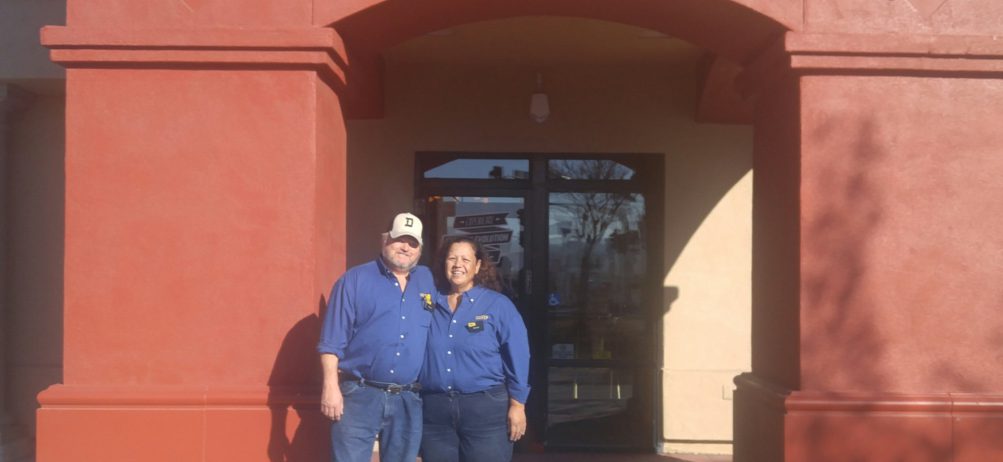 Local Restauranteurs Bring Dickey's Texas-style Barbecue to Barstow
'
(Barstow, CA) Local entrepreneurs, Wayne and Chris Jarnagin, open theirfirst Dickey's Barbecue Pitlocation in Barstow, CA. The new location opens today with four weeks ofspecials for guests eager to enjoy Dickey's slow-smoked barbecue.
After growing up in Barstow, the Jarnagins consider residents of thecommunity their family which impacted their decision of which franchises toconsider opening in their hometown. Upon deciding to break into the restaurantindustry, they looked into franchising options that were needed in the area andauthentic, Texas-style barbecue fit the need.
"We have loved Dickey's barbecue since we first tasted it and knew that Dickey'swas something we needed in our community," says Chris. "After researchingdifferent franchising options, we knew that Dickey's would be the perfect fitfor not only us as owners, but for the residents of Barstow, as well."
The newlocation will offer guests $2 Pulled Pork Sandwiches on Saturday, January 27from 11 a.m. to 2 p.m. with four weeks of specials following opening day,including free barbecue for a year for three lucky guests.
"At Dickey's Barbecue Pit,we are proud to have franchisees like Wayne and Chris Jarnagin who arepassionate about the art of great barbecue and who go above and beyond to giveback to their community," says Laura Rea Dickey, CEO of Dickey's BarbecueRestaurants, Inc. "We look forward to seeing the Jarnagins' success in theirnew Barstow location."
To join Dickey's Big Yellow Cup Club and receive members-only specialsand discounts, click here.
The new Dickey's Barbecue Pit in Barstowis located at 2620 Fisher Blvd., Barstow, CA 92311. The phone number is 760-253-3227.
To find the location nearest you, click here.
Find Dickey's on Facebook, Instagram and Twitter.
To learn more about franchising with Dickeys, visit www.dickeys.com/franchise or call 866-340-6188.
About Dickey's Barbecue Restaurants, Inc.
Dickey's Barbecue Restaurants, Inc., the nation's largest barbecue chain,was founded in 1941 by Travis Dickey. Today, all meats are still slowsmoked on-site in each restaurant. The Dallas-based family-run barbecue franchise offersseveral slow-smoked meats and home style sides with 'No B.S. (BadStuff)' included. The fast-casual concept has expanded to more than 550locations in 44 states. In 2016, Dickey's won first place on Fast Casual's"Top 100 Movers and Shakers" list and in 2017 again wona top 10 on the list. Dickey's Barbecue Pit has also been recognized byEntrepreneur Magazine, Franchise Times, and Nation's Restaurant News. For moreinformation, visit www.dickeys.com.
###
'