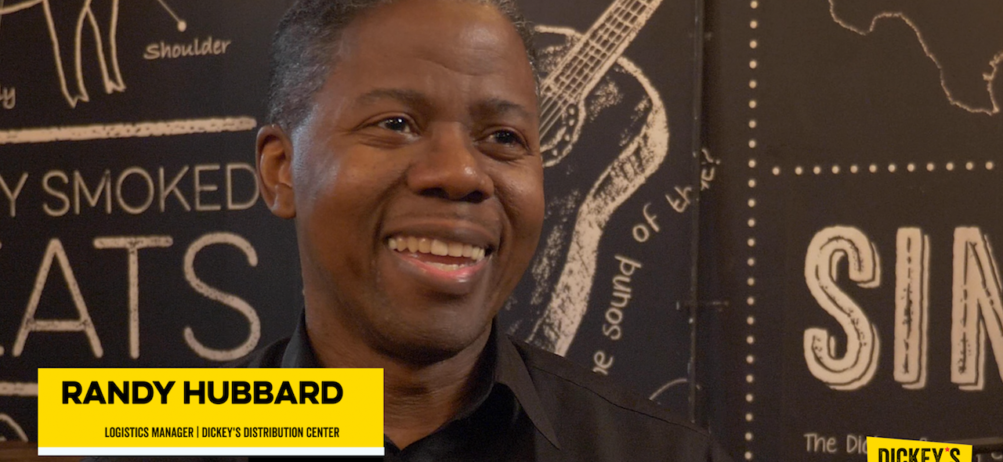 Longtime Dickey's Barbecue Pit Employee Celebrates 43 Years With The Brand
DALLAS (Nov. X, 2020) Second-generation Dickey's family member Randy Hubbard is looking ahead to the brand's 80th year and is reflecting on his journey with the international franchise as he celebrates nearly five consecutive decades of partnership with Dickey's.
Hubbard's tenure with the brand traces back to his father who was the first employee hired by Dickey's in 1968. Hubbard soon followed in his father's footsteps, joining the brand in 1978 as a Pit Crew member at Dickey's original location in Dallas, TX.
"It's been a life experience for me. Some folks grow up drinking Enfamil as a baby, for me it was barbecue sauce," said Hubbard.
Hubbard now works on the product distribution side for Dickey's as a logistics manager for the Dallas-based brand. Before joining the Wycliff-Douglas team, Hubbard contributed to all facets of the business including operations, training and marketing.
Ahead of the brand's milestone 80th anniversary year and his 43rd year with the world's largest barbecue franchise, Hubbard reflects on his history with the brand and how he's seen it develop over the years in this short video where he says, "One of the things I've seen evolve over time is that you don't have to do as much leg work. We're giving guests the same quality, but it requires less labor on our part."
"Randy is an incredible team member, and he has trailblazed a remarkable legacy here at Dickey's. His passion for barbecue is infectious to those around him and we're honored to have him as part of our family," said Laura Rea Dickey, CEO of Dickey's Barbecue Restaurants, Inc.
Learn more about franchising with Dickey's Barbecue Pit by visiting franchise.dickeys.com or call (866) 340-6188. To find your nearest Dickey's Barbecue Pit location, visit dickeys.com/locations.
To learn more, follow Dickey's on Facebook, Instagram and Twitter. Download the Dickey's Barbecue Pit app from the Apple App Store or Google Play.
About Dickey's Barbecue Restaurants, Inc.
Dickey's Barbecue Restaurants, Inc., the world's largest barbecue concept, was founded in 1941 by Travis Dickey. For the past 79 years, Dickey's Barbecue Pit has served millions of guests Legit. Texas. Barbecue.™ At Dickey's, all our barbecued meats are smoked on-site in a hickory wood burning pit. Dickey's proudly believes there's no shortcut to true barbecue and it's why they never say bbq. The Dallas-based family-run barbecue franchise offers several slow-smoked meats and wholesome sides with 'No B.S. (Bad Stuff)' included. The fast-casual concept has expanded worldwide with two international locations in the UAE and operates over 500 locations in 44 states. In 2016, Dickey's won first place on Fast Casual's "Top 100 Movers and Shakers" list and was named a Top 500 Franchise by Entrepreneur in 2018. Dickey's Barbecue Pit has also been recognized by Fox News, Franchise Times, The Wall Street Journal, QSR Magazine, Forbes Magazine and Nation's Restaurant News. For more information, visit www.dickeys.com.
###