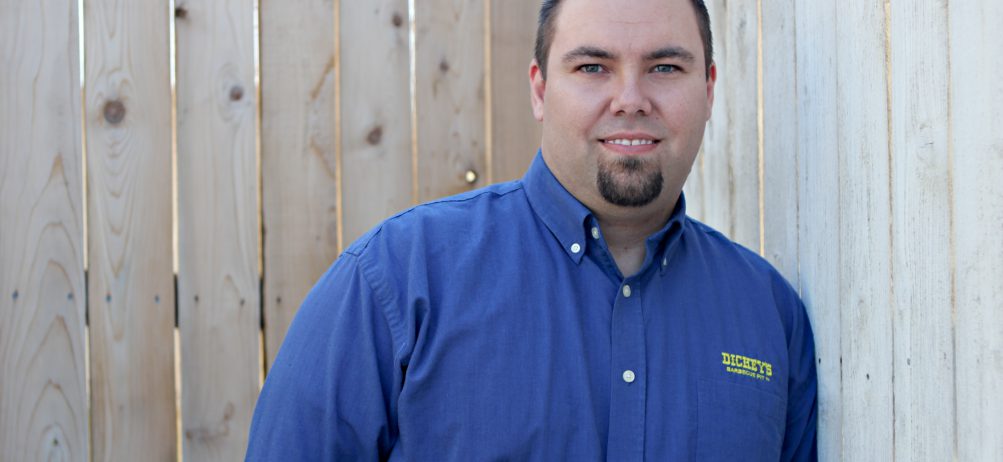 New Franchise Agreement Brings 21st Dickey's Barbecue Pit Location to Washington State
'
Owner/Operator Dan Pelfrey has opened two stores and will soon open a third in the summer of 2016
(Pasco, WA) Dickey's Barbecue Pit is growing rapidly throughout the Pacific Northwest and will soon open its 21st Washington location in the city of Pasco. The new store is the third store to open in a three-store development agreement that includes stores in Richland and Kennewick.
Originally from Southeast Texas, Owner/Operator Dan Pelfrey has always been a barbecue fan. A former college football star in Utah, he majored in entrepreneurship with the idea that one day he would start a business. He worked for many years in logistics and operations which brought him to Washington State. Pelfrey began researching franchise options after corporate layoffs, and chose to invest in Dickey's because of his many years in the foodservice industry and his extensive research on food-based franchises. His deciding factor was the level of corporate support that Dickey's offers all its franchisees. "We are successful when we work as a team toward each other's combined success," says Pelfrey. "Dickey's has offered the opportunity to be successful in my new career venture and has provided ongoing support throughout the process."
"Dickey's has expanded its footprint across Washington State," says Roland Dickey, Jr., CEO of Dickey's Barbecue Restaurants, Inc. "As Texas-style barbecue is a relatively new concept in the area, we are proud of our franchisees who have opened new stores and brought our signature flavors to the Pacific Northwest. The Dickey family congratulates Dan Pelfrey on his three-store agreement and looks forward to the opening of his third store."
To learn more about franchising with Dickeys, visit www.dickeys.com/franchise or call 866-340-6188.
To find the Dickey's Barbecue Pit nearest you, click here. Find Dickey's on Twitter, Facebook and Instagram.  
About Dickey's Barbecue Restaurants, Inc.
Dickey's Barbecue Restaurants, Inc., the nation's largest barbecue chain was founded in 1941 by Travis Dickey with the goal of authentic slow smoked barbecue. Today, all meats are still slow smoked on-site in each restaurant living up to the company tagline, "We Speak Barbecue." The Dallas-based family-run barbecue franchise offers a quality selection of signature meats, home style sides, tangy barbecue sauce and free kids' meals every Sunday. The fast-casual concept has expanded to over 530 locations in 43 states. Dickey's was recognized for the third year by Nation's Restaurant News as a "Top 10 Growth Chain" and by Technomic as the "Fastest-growing restaurant chain in the country." For more information, visit www.dickeys.com or for barbecue franchise opportunities call 866.340.6188.