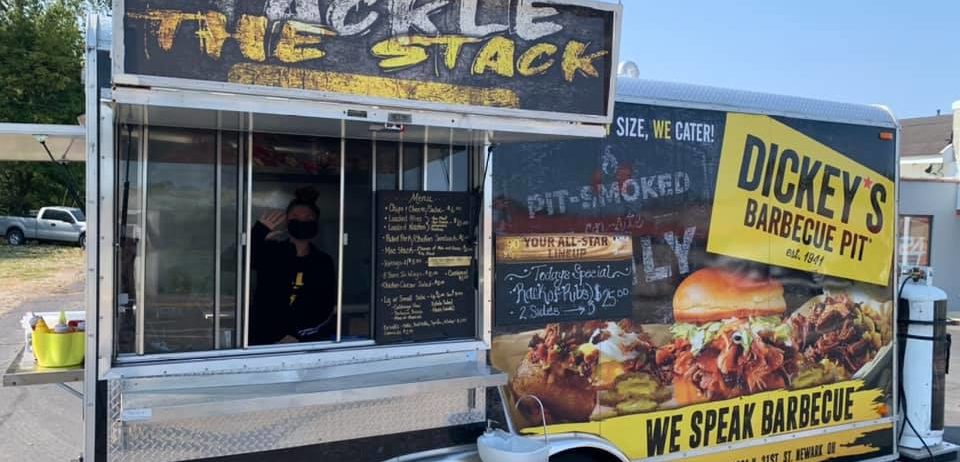 Ohio Dickey's Barbecue Pit Owner Sees Success Amid Pandemic With Food Truck Trailer
NEWARK (Nov. 9, 2020) Dickey's Barbecue Pit franchisee Josh Wise is seeing an increase in store sales over last year in thanks to his innovative food truck trailer.
"The food trailer is hands down the best thing we've done in the pandemic," said Josh Wise Owner Operator of the Dickey's Barbecue Pit in Newark, OH.
Josh wise adopted the food trailer in June to accommodate social distancing and indoor dining measures enacted during the pandemic. Now, the mobile food unit accounts for 15% of Josh's total sales and the unit alone averages about $25,000 in sales a month.
"Current Ohio mandates specify that bars must close at 10:00p.m. which has definitely impacted our alcohol sales, but having the food trailer to offset those losses has really benefitted my business and positioned my store to be sales positive over last year," said Wise.
"Josh's innovate approach to adapting in changing times positions him to thrive well beyond the pandemic. He is a strong partner for us and we're honored he is able to use his leadership skills to continually build the brand's success," said Laura Rea Dickey, CEO of Dickey's Barbecue Restaurants, Inc.
To learn more about Josh's journey with the Dickey's brand watch this short testimonial video.
Learn more about franchising with Dickey's Barbecue Pit by visiting franchise.dickeys.com or call (866) 340-6188. To find your nearest Dickey's Barbecue Pit location, visit dickeys.com/locations.
To learn more, follow Dickey's on Facebook, Instagram and Twitter. Download the Dickey's Barbecue Pit app from the Apple App Store or Google Play.
About Dickey's Barbecue Restaurants, Inc.
Dickey's Barbecue Restaurants, Inc., the world's largest barbecue concept, was founded in 1941 by Travis Dickey. For the past 79 years, Dickey's Barbecue Pit has served millions of guests Legit. Texas. Barbecue.™ At Dickey's, all our barbecued meats are smoked on-site in a hickory wood burning pit. Dickey's proudly believes there's no shortcut to true barbecue and it's why they never say bbq. The Dallas-based family-run barbecue franchise offers several slow-smoked meats and wholesome sides with 'No B.S. (Bad Stuff)' included. The fast-casual concept has expanded worldwide with two international locations in the UAE and operates over 500 locations in 44 states. In 2016, Dickey's won first place on Fast Casual's "Top 100 Movers and Shakers" list and was named a Top 500 Franchise by Entrepreneur in 2018. Dickey's Barbecue Pit has also been recognized by Fox News, Franchise Times, The Wall Street Journal, QSR Magazine, Forbes Magazine and Nation's Restaurant News. For more information, visit www.dickeys.com.
###