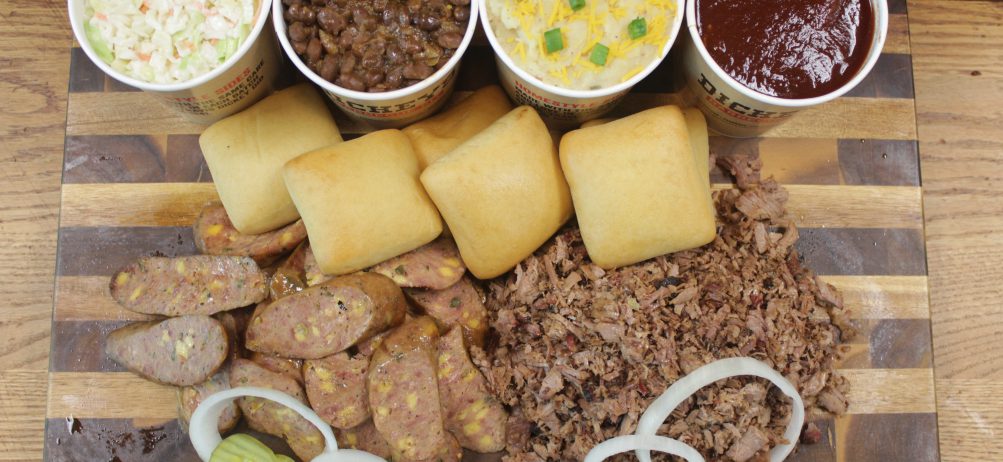 Press Release: Dickey's Barbecue Pit Announces Expansion Into 44th State
'
Owner/Operator Jack Chubb will open 10 new stores, five of which will open in Hawaii               
(Honolulu, HI) Dickey's Barbecue Pit is slated to expand into its 44th state with a 10-store development agreement recently executed for Florida and Hawaii. Owner/Operator Jack Chubb currently owns Dickey's locations in Sarasota and Wesley Chapel, Florida, and will open the first Hawaii store by late 2016. The development agreement includes five new stores in Florida and five in Hawaii.
"Dickey's has grown rapidly nationwide, and we are proud to add our 44th state," says Roland Dickey, Jr., CEO of Dickey's Barbecue Restaurants, Inc. "The new stores in Hawaii are our first venture as a company beyond the continental United States, and we look forward to further expansion overseas in the future."
A former hospital administrator, Jack Chubb retired from his 34-year executive tenure and decided to become a business owner. He spent most of his research time at his local Dickey's Barbecue Pit enjoying the authentic Texas-style barbecue, when he decided that the barbecue chain was the right opportunity for his next career move. "I love providing a great guest experience, and my favorite thing is to see the guests' faces light up when they eat at Dickeys," says Chubb. "Barbecue invokes great memories for most people, and I am happy to provide that experience in my stores and excited to bring it to Hawaii." 
To learn more about franchising with Dickeys, visit www.dickeys.com/franchise or call 866-340-6188.
To find the Dickey's Barbecue Pit nearest you, click here. Find Dickey's on Twitter, Facebook and Instagram.   
About Dickey's Barbecue Restaurants, Inc.
Dickey's Barbecue Restaurants, Inc., the nation's largest barbecue chain was founded in 1941 by Travis Dickey with the goal of authentic slow smoked barbecue. Today, all meats are still slow smoked on-site in each restaurant living up to the company tagline, "We Speak Barbecue." The Dallas-based family-run barbecue franchise offers a quality selection of signature meats, home style sides, tangy barbecue sauce and free kids' meals every Sunday. The fast-casual concept has expanded to over 530 locations in 43 states. Dickey's was recognized for the third year by Nation's Restaurant News as a "Top 10 Growth Chain" and by Technomic as the "Fastest-growing restaurant chain in the country." For more information, visit www.dickeys.com or for barbecue franchise opportunities call 866.340.6188.