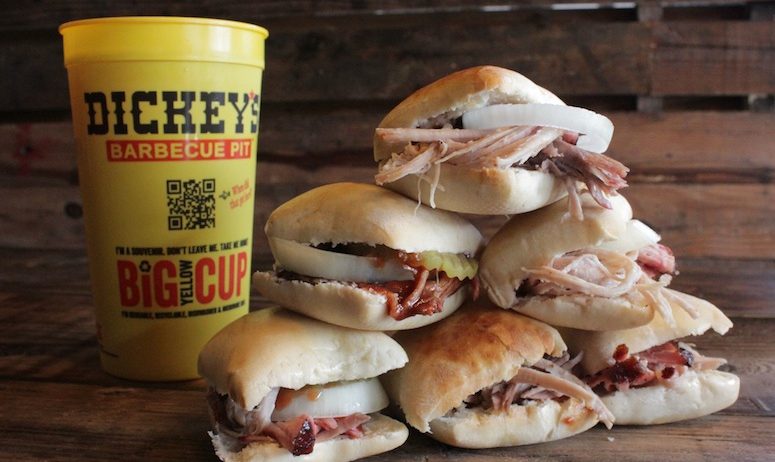 Press Release: Dickey's Barbecue Pit Celebrates Success with Sliders Following First LTO Campaign in Two Years
'
Dickey's Gears Up for Next LTO 
(Dallas, TX) Dickey's Launched 'Pulled Pork Palooza' to start 2016 with a bang. The centerpiece of the campaign was Pulled Pork Sliders, which were sold for $1 system-wide. In the first quarter, Pulled Pork Sliders accounted for a 23 percent increase in sales per store, per day. Overall, Dickey's sold more than 700,000 sliders system-wide. Guest feedback was overwhelmingly positive, as the sliders were not only sold as an add-on in each store, but were also included in a 24-ct party pack perfect for game watching parties.
With the success of Dickey's first limited time offer in more than two years, the nation's largest barbecue chain will soon release a new limited time offer for the second quarter. Stay tuned for the announcement, but Dickey's does have one hint: it will be impossible to wrap your mind around it!
"Dickey's saw overwhelming success in our Pulled Pork Slider campaign," says Roland Dickey, Jr., CEO of Dickey's Barbecue Restaurants, Inc. "We enjoyed featuring these existing menu items but with a fresh new twist, and look forward to the launch of a new LTO in the second quarter."
To find the Dickey's Barbecue Pit nearest you, click here. Find Dickey's on Twitter, Facebook and Instagram.  
To find out more about franchising with Dickey's Barbecue Restaurants, Inc., visit https://www.dickeys.com/franchise or call 866-340-6188.
About Dickey's Barbecue Restaurants, Inc.
Dickey's Barbecue Restaurants, Inc., the nation's largest barbecue chain was founded in 1941 by Travis Dickey with the goal of authentic slow smoked barbecue. Today, all meats are still slow smoked on-site in each restaurant living up to the company tagline, "We Speak Barbecue." The Dallas-based family-run barbecue franchise offers a quality selection of signature meats, home style sides, tangy barbecue sauce and free kids' meals every Sunday. The fast-casual concept has expanded to over 540 locations in 43 states. Dickey's Barbecue Pit was recognized for the third year by Nation's Restaurant News as a "Top 10 Growth Chain" and by Technomic as the "Fastest-growing restaurant chain in the country." For more information, visit www.dickeys.com or for barbecue franchise opportunities call 866.340.6188.