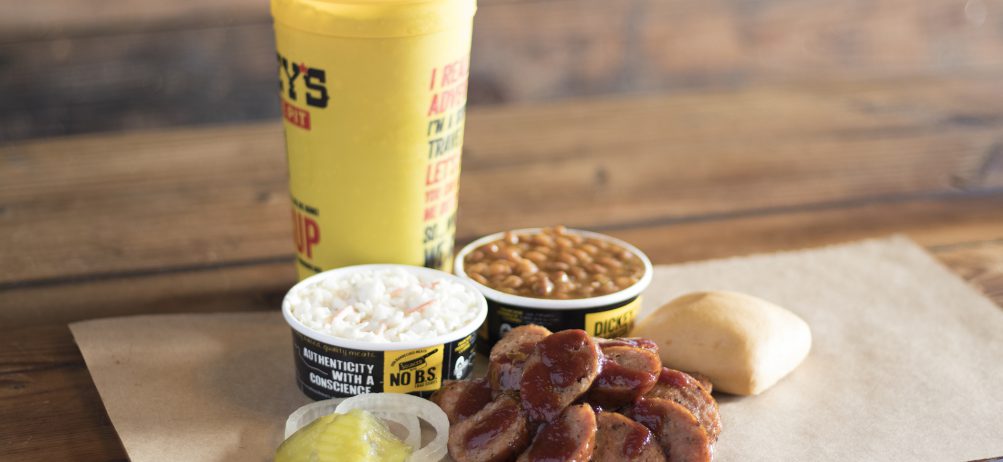 Dickey's Barbecue Pit Expanding Retail Presence in Northern California
'
DALLAS, July 6, 2017 /PRNewswire/ — Northern Californians now have even more opportunity to enjoy Dickey's Barbecue Pit right in their homes thanks to a new partnership with FoodMaxx. The majority of FoodMaxx locations in Northern California are now selling three flavors of Dickey's signature sausage: Original Smoked Polish Sausage, Smoked Spicy Cheddar Sausage and Hot Links.
Dickey's Barbecue Pit's signature smoked sausage line comes in three delicious flavors:Original Smoked Polish, Smoked Spicy Cheddar and Hot Links.
Dickey's line of signature smoked sausages follows the brand's high quality standards of only using responsibly-raised, "No B.S. (Bad Stuff)" meats, meaning all sausages are MSG, nitrite and nitrate free. Prepared with guest convenience in mind, the pre-smoked sausages come ready to heat and serve, perfect for any backyard barbecue this summer.
"The goal of our signature smoked sausage line is to provide guests with another convenient, cost-conscious way to enjoy Dickey's delicious barbecue," said Laura Rea Dickey, CEO of Dickey's Barbecue Restaurants, Inc. "Our sausage line was prepared to cater to the guest as much as possible, while maintaining the authenticity our barbecue is famous for. We are proud to partner with FoodMaxx to bring Northern California more Texas-style barbecue."
About Dickey's Barbecue Restaurants, Inc.
Dickey's Barbecue Restaurants, Inc., the nation's largest barbecue chain was founded in 1941 by Travis Dickey. Today, all meats are still slow smoked on-site in each restaurant. The Dallas-based family-run barbecue franchise offers several slow-smoked meats and home style sides with 'No B.S. (Bad Stuff)' included. The fast-casual concept has expanded to nearly 600 locations in 44 states. In 2016, Dickey's won first place on Fast Casual's "Top 100 Movers and Shakers" list and in 2017 again won a top 10 on the list. Dickey's Barbecue Pit has also been recognized by Entrepreneur Magazine, Franchise Times, and Nation's Restaurant News. For more information, visit www.dickeys.com.
About FoodMaxx
Based in the heart of the Central Valley, FoodMaxx, whose parent company is The Save Mart Companies, is committed to sourcing a wide variety of local products ensuring that 'fresh comes first' for neighborhoods throughout California and Northern Nevada. The company employs nearly 16,000 team members and operates 207 traditional and price impact stores under the banners of Save Mart, Lucky, FoodMaxx, S-Mart Foods, and MaxxValue Foods. In addition to its retail operation, the company also operates Smart Refrigerated Transport and is a voting partner in Super Store Industries (SSI), which owns and operates a distribution center in Lathrop, Mid Valley Dairy in Fairfield and Sunnyside Farms ice cream plant in Turlock. For more information on the company visit: www.FoodMaxx.com
'