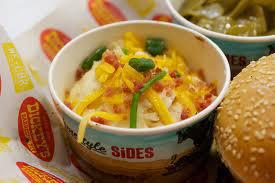 The Big Apples Takes a Bite Out of Dickey's Slow Smoked Barbecue
'(Cortland,NY) Dickey's Barbecue Pit is bringing a piece of the South to the East Coast. The barbecue chain known for slow smoked barbecue, served fast just signed a lease in Cortland. The new barbecuerestaurant is scheduled to open in December.
"Every item on Dickey's menu is delicious and so different than anything else in the market," said franchise owner Allan Bennett. "Dickey's has been serving authentic pit smoked barbecue since 1941 so it was a no brainer to join the successful franchise,"
Bennett has lived in Whitney Point, NY for more than 40 years. He is a retired contractor and was the owner of AB Construction and Roofing Inc.; which is now successfully owned and operated by his daughter and son-in-law.
"We're excited to be expanding our brand across New York State," said Roland Dickey, Jr., president of Dickey's Barbecue Restaurants, Inc. "New Yorkers will soon be able to enjoy true authentic pit smoked barbecue."
Jim Hickin will be the general manager for this location. Hickin has several years of restaurant management experience in the Vestal, NY area. This smokin' hot new location is located at 160 Clinton Avenue and the store phone number is 607-222-8000.