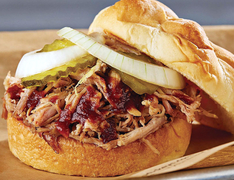 The Smoke Trail Continues as Dickey's Barbecue Pit Opens New Location in San Antonio
'
Dickey's celebratesgrand opening Thursday with three weeks of fun, including free barbecue for ayear for three lucky guests
(San Antonio, TX) Dickey's Barbecue Pit keeps thesmoke trail going in San Antonio with its newest opening at Stone Ridge Market thisThursday. To celebrate the grand opening, three lucky guests will win freebarbecue for a year at the new San Antonio location. Guests can enter to winusing hashtag #1FreeYearofBBQ on anysocial media page, by ordering online or signing up for the Big Yellow Cup Club to receive special offers and loyalty points which can be redeemedfor free barbecue.
To find theDickey's Barbecue Pit nearest you, click here.
"We areproud to have Owners/Operators Agustin Tellez, Jr. and Isela Chamberlain as a partof the Dickey's family," says Roland Dickey, Jr., CEO of Dickey's BarbecueRestaurants, Inc. "They continue to identify opportunities for growth andintroduce our authentic slow-smoked barbecue to the San Antonio area."
Doorsopen this Thursday and guestscan enjoy the grand opening events over the next three weeks:
ThirstyThursdays – All guests will receive afree Big Yellow Cup with Dickey's new reusable travel lid and straw. Thefirst 50 guests will receive a taste of Dickey's Limited Time Offer of themonth, featuring one pulled pork street taco per person.
PhilanthropyFridays – "You Give,We Give", guestswho donate to Dickey's charitable foundation, Barbecue, Boots & Badges, will receive a gift card. Uniformed firstresponders also receive 50 percent off their meal.
Singer/SongwriterSaturdays – Enjoy livemusic from Alissa Klusky and get a free Big Yellow Cup!
Kids Eat FreeAll Day Every Sunday!
Thereis no stopping Owner/Operators Agustin Tellez, Jr. and Isela Chamberlain, whoare opening their second location nearly three months after their first store openingat Military Crossing Shopping. "We have been strategic and productive in our growthplan here in San Antonio," says Tellez. As they open San Antonio's fifthlocation, they look forward to engaging with their community from the newlocation.
Residentsof San Antonio can find their newest Dickey's of Stone Ridge Market at 20821 USHighway 281 North, Ste. 116 San Antonio, TX 78258. The phone number is 210-688-4300.
Find Dickey's on Facebook, Instagram and Twitter.
'