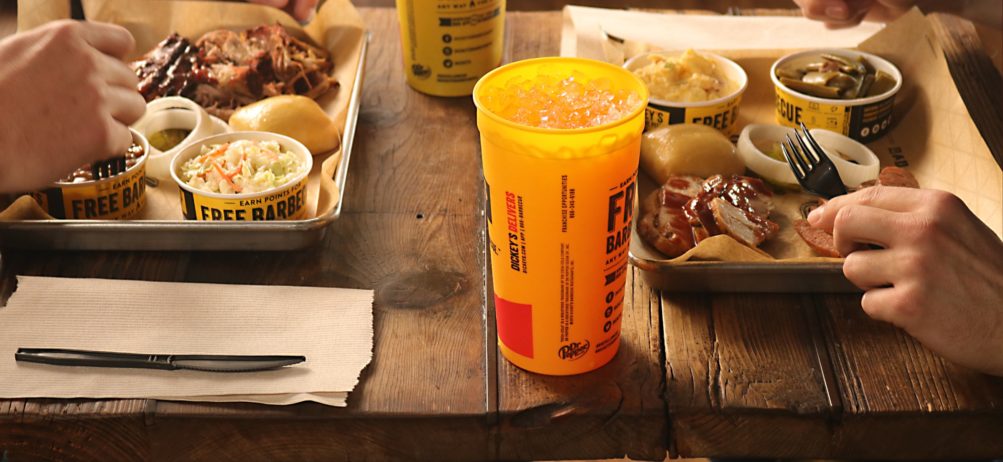 At Dickey's BBQ Franchise, Sharing Really is Caring
What's better than a BBQ franchise?  A BBQ franchise that gives back to the community!  Dickey's BBQ Franchise is a purpose-driven brand that is passionate about great barbecue and about giving back to the communities it serves.  Our company mission "to do both well and good in the communities in which we do business" is part of the company culture of success.
"Our brand has a long history of giving back to our local communities," Dickey's Barbecue CEO Laura Rea Dickey said. "Philanthropy is a key component to the fabric of our company that keeps us all aligned on the importance of serving."
Why is giving back so important to Dickey's BBQ Franchisees?
It fosters guest loyalty. Aside from making the world a better place, giving back is also a great way to attract and retain new guests. Consumers feel good about buying from good franchises that support their community.  The benefits definitely outweigh the costs to franchisees.
Since 2015, Dickey's has supported The Dickey Foundation, a non-profit organization dedicated to the first responders who protect and unite our communities.  The foundation provides financial opportunities, safety equipment such as helmets, shields, respiratory masks and overall support for local first responders. Although its reach is national, the efforts are extremely local.
This October, Dickey's sold close to half a million of their inaugural Pink Big Yellow Cups and in just one month raised more than $40,000 for breast cancer screenings and mammography services to benefit local first responders across the U.S.
In addition, this year alone, Dickey's has donated over 7,500 sandwiches to first responders locally and raised over $100,000 for The Dickey Foundation.
It gives meaning to purchases.  There is a sense of pride that comes from purchasing from a company that gives back. A recent study by the Huffington Post showed 81% of millennials want to support brands that are good corporate citizens. But companies that talk the talk, really need to walk the walk both nationally and at the hyper local level.
At Dickey's, our franchisees make it a priority to be good neighbors in our communities by helping out with local fundraisers and providing meals to those in need.  Dickey's even recently debuted its first limited-edition Pink Big Yellow Cup to support Breast Cancer Awareness Month.  Funds raised from the collectible Pink Big Yellow Cup will provide mammograms and other breast cancer detection, treatment and services for local first responders.
It creates a strong brand culture.  With restaurant labor competitive, prioritizing social responsibility can set a brand apart and bond employees as they team up to help those in need.  Our team members have a sense of pride as they serve their communities and it gives additional purpose to their jobs.  Seeing the impact they can make in their communities is a win for everyone.