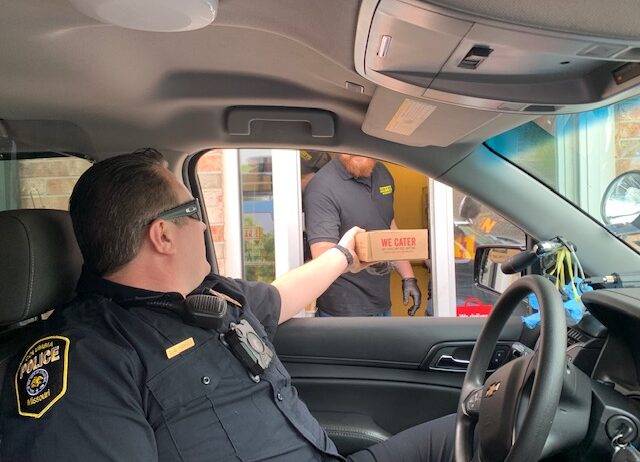 Doing Well and Good is at the Foundation of the Dickey's BBQ Franchise
Ever since World War I Veteran Travis Dickey founded the first Dickey's Barbecue Pit in 1941, the family-owned brand established that there's one specific factor that can make a BBQ franchise thrive. The secret sauce for success? Giving back to the overall good of their communities!
Even as Dickey's evolved into the world's largest barbecue concept, the company never lost sight of what Dickey's is all about. To this day, the Texas-style barbecue brand's mission is "to do both well and good in the communities in which we do business." To ensure all team members are on board, the company even recites this mantra daily on its systemwide call.
"Making an impact in the communities we serve is incredibly important for all of our locations," said Laura Rea Dickey, CEO of Dickey's Barbecue Restaurants, Inc. "Our franchise Owner/Operators know the people in their communities and really care about them. When you put that passion into more than 500-locations across the country,  you get many people who want to make a difference. At Dickey's, we look for this quality in our team members across the board. Whether you're an Owner/Operator or working in our home office, we all strive to do both well and good in our communities."
Here's how Dickey's Barbecue Franchise continues to give back to its communities:
Though 2020 presented unforeseen challenges for the restaurant industry, Dickey's continued to lean into making a difference in the communities it serves. Throughout the year, Dickey's implemented various fundraising initiatives to support those in its local communities.
Ultimately, Dickey's ended the year breaking records in its fundraising efforts. In 2020, the barbecue brand sold 1.2 million limited-edition Big Yellow Cups, 800,000 of which were First Responder Tribute Cups, and 500,000 were Pink Big Yellow Cups. Dickey's donated a portion of the proceeds from each cup sold to The Dickey Foundation, which provides safety equipment such as helmets, shields, respiratory masks, and overall support for local first responders. In total, Dickey's raised $150,000 for The Dickey Foundation.
Additionally, in the past year, more than 500 Dickey's locations nationwide thanked their local firefighters, nurses, EMTs, and front line workers for their tireless efforts by donating more than 10,000 Pulled Pork Classic Sandwiches to their community's heroes.
Moving into 2021, Dickey's will continue to provide more localized support to first responders across the country by donating a portion of the proceeds from every Big Yellow Cup sold this year to The Dickey Foundation. In celebration of the brand's 80th anniversary, Dickey's will launch six limited-edition Tribute Cups over the course of the year.
The BBQ franchise also recently launched its Dickey's Doing Good podcast, which provides a platform for local heroes to share stories about their community, delicious barbecue, and their experiences on the front lines of the pandemic.
"This year, we're celebrating 80 years of giving back to the communities we serve," Dickey said. "We're remaining steadfast in our charitable efforts by using our 80th anniversary as a way to raise money for local first responders. And with our new podcast, we're celebrating stories of great people doing good things in their communities. Doing both well and good is one of our guiding principles, so we're thrilled that others can now listen to stories of people exemplifying that."