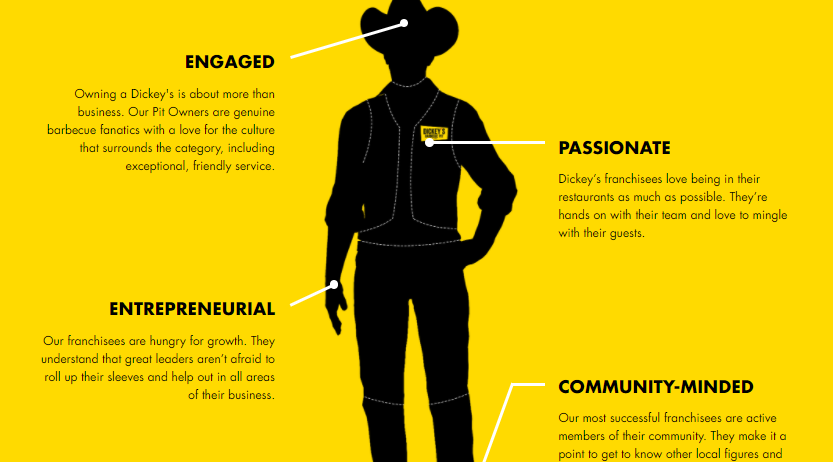 Partnering with the Right Operator is the First Step to Success For Dickey's BBQ Franchise
Trust is at the core of any franchisee/franchisor relationship. The franchisee must trust that the franchisor will provide ongoing business support, and the franchisor must trust that its operators represent their brand well with boots on the ground.
For new Dickey's BBQ franchisees, deciding to invest in a franchise is a large commitment, so it's important to find the right one. Potential franchisees should consider their personal goals, the industry that would work best and their investment budget. But when selecting a franchise, it's not just the prospective franchisee that's making a decision. It's a mutual evaluation process for both parties to establish trust in one another before beginning a partnership.
At Dickey's Barbecue Pit, a member of the franchise development team gets to know all potential franchisees personally before they sign on to make sure that they're the right fit for a budding partnership.
"For over 25 years, we've been showing the world that our franchisees are the best in the franchise business," said Laura Rea Dickey, CEO of Dickey's Barbecue Restaurants, Inc. "Our selection process for finding franchisees has produced best-in-class Owners Operators for our brand. We partner with leaders that exhibit effective management skills and inspire their teams to be the best they can be."
Here's how Dickey's Barbecue Pit Franchise ensures prospective operators are the right match:
The world's largest barbecue concept knows what hot ticket franchise owner qualities are needed for potential franchisees to thrive as a Dickey's Owner/Operator. Successful Dickey's BBQ Franchise operators are engaged, passionate, entrepreneurial and community-minded. The ideal owner is a barbecue fanatic who loves the culture surrounding good BBQ, like exceptional, friendly service. Dickey's Barbecue Pit Owner Operators spend quality time in their restaurant, working hands on with their team and mingling with guests, and they're active members of their community. Ultimately, they're focused on helping out in all areas of their restaurant and creating lasting partnerships that boost business.
Additionally, qualified Dickey's Barbecue Franchise owners are required to have a minimum net worth of $300,000 and a minimum liquid capital of $100,000. In total, the franchise investment for owning a Dickey's restaurant can start at as little as $71,993 to upward of $323,789 for a full buildout.
 Once a new franchisee commits to owning a Dickey's, the BBQ brand immediately begins its steadfast franchise support. From site selection and construction oversight to seamless training, hiring help and grand opening buzz, owners can trust that Dickey's will support them every step of the way. And the support doesn't stop once a new location opens. The Texas-style barbecue brand has several avenues for providing support for franchisees after opening, such as specific advisory boards run by franchisee committees across the country, as well as a franchise relations team, hotline number and online ticketing system. With direct access to the Dickey's team, franchisees are equipped with the support needed to run a prosperous business.
"Once we've established that someone is the right fit for franchising with us, we'll hold up our end by supporting them from signing to serving and beyond," said Roland Dickey Jr., CEO of Dickey's Capital Group. "At Dickey's, we know how important it is to instill trust in our owners, so we make sure that everyone who joins the Dickey's Franchise family is well taken care of from day one."
To learn more about Dickey's ongoing franchise support, visit franchise.dickeys.com/why-dickeys/franchise-support/.