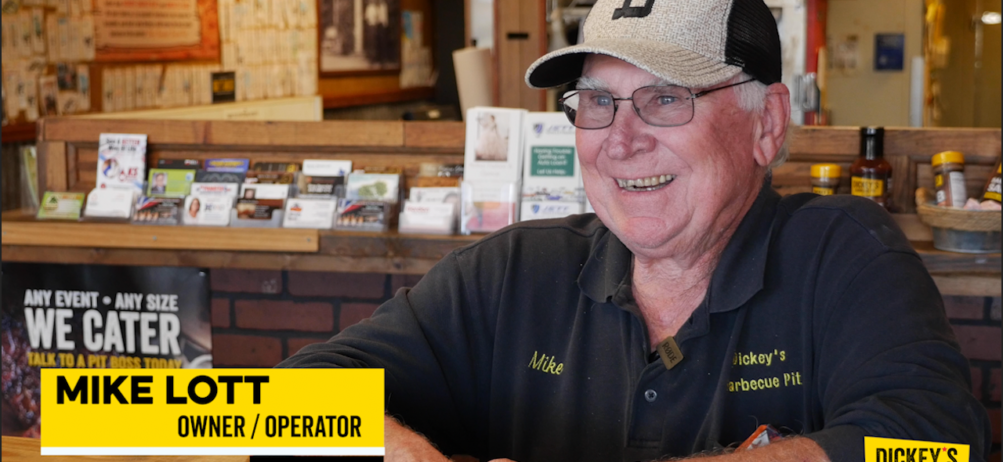 Dickey's Owner Operator Enters 10th Year In Business 10% Up In Sales
DALLAS (Nov. 30, 2020) Longtime fast-casual restauranteur and Dickey's Barbecue Pit Owner Operator Mike Lott is ringing in his 10th year in business with the barbecue brand and is reporting record sales as he is up nearly 10% for the month of October over last year.
Lott attributes his store's success to the community partners he's established and the nimble to-go options he's capitalized on throughout the pandemic with his curbside pick-up and drive-thru areas citing that since the pandemic began, he has continually been up in sales over last year.
The former burger franchisee who joined Dickey's in 2011 also regularly gives back to his community by delivering free food to his local first responders, including recently delivering 120 free sandwiches to his local police and fire station as a show of thanks for their tireless efforts.
Lott's store located in Clear Lake, TX which is home to Houston Space Center is an epicenter of the community serving a long list of NASA officials, catering to local sports teams such as the Houston Astros and hosting church lunches and off-site deliveries around the area every week.
"Mike Lott is truly the Mr. Dickey of his community serving guests in the area quality food and hospitality everyday rain or shine for the last 10 years," said Laura Rea Dickey, CEO of Dickey's Barbecue Restaurants, Inc. "His commitment to his community is a cornerstone to his success and it's an honor to ring in this milestone celebration and look forward to celebrating many more wins together as partners."
To learn more about Mike's story with the Dickey's franchise, watch this short testimonial video.
Learn more about franchising with Dickey's Barbecue Pit by visiting franchise.dickeys.com or call (866) 340-6188. To find your nearest Dickey's Barbecue Pit location, visit dickeys.com/locations.
To learn more, follow Dickey's on Facebook, Instagram and Twitter. Download the Dickey's Barbecue Pit app from the Apple App Store or Google Play.
About Dickey's Barbecue Restaurants, Inc.
Dickey's Barbecue Restaurants, Inc., the world's largest barbecue concept, was founded in 1941 by Travis Dickey. For the past 79 years, Dickey's Barbecue Pit has served millions of guests Legit. Texas. Barbecue.™ At Dickey's, all our barbecued meats are smoked on-site in a hickory wood burning pit. Dickey's proudly believes there's no shortcut to true barbecue and it's why they never say bbq. The Dallas-based family-run barbecue franchise offers several slow-smoked meats and wholesome sides with 'No B.S. (Bad Stuff)' included. The fast-casual concept has expanded worldwide with two international locations in the UAE and operates over 500 locations in 44 states. In 2016, Dickey's won first place on Fast Casual's "Top 100 Movers and Shakers" list and was named a Top 500 Franchise by Entrepreneur in 2018. Dickey's Barbecue Pit has also been recognized by Fox News, Franchise Times, The Wall Street Journal, QSR Magazine, Forbes Magazine and Nation's Restaurant News. For more information, visit www.dickeys.com.
###